Knowing the heartbeat of God for you…Part 2
If someone asked you to describe yourself, how would you?
Men get their definition mostly from what we do…women derive their definitions mostly from how they relate to others..Interestingly enough psychologist say we get the majority of our definition from our mothers
However…
These are all titles names that we have assigned to us. Chances are if you are telling me in public it would all be good things but if we were in private, you may tell me some of the things that hurt.
God's heart beat is that you would know who you are, your potential based on what He says about you
Luke 8:26-39
So they arrived in the region of the Gerasenes, across the lake from Galilee. 27 As Jesus was climbing out of the boat, a man who was possessed by demons came out to meet him. For a long time he had been homeless and naked, living in the tombs outside the town.
28 As soon as he saw Jesus, he shrieked and fell down in front of him. Then he screamed, "Why are you interfering with me, Jesus, Son of the Most High God? Please, I beg you, don't torture me!" 29 For Jesus had already commanded the evil spirit to come out of him. This spirit had often taken control of the man. Even when he was placed under guard and put in chains and shackles, he simply broke them and rushed out into the wilderness, completely under the demon's power.
30 Jesus demanded, "What is your name?"
"Legion," he replied, for he was filled with many demons. 31 The demons kept begging Jesus not to send them into the bottomless pit.
32 There happened to be a large herd of pigs feeding on the hillside nearby, and the demons begged him to let them enter into the pigs.
So Jesus gave them permission. 33 Then the demons came out of the man and entered the pigs, and the entire herd plunged down the steep hillside into the lake and drowned.
34 When the herdsmen saw it, they fled to the nearby town and the surrounding countryside, spreading the news as they ran. 35 People rushed out to see what had happened. A crowd soon gathered around Jesus, and they saw the man who had been freed from the demons. He was sitting at Jesus' feet, fully clothed and perfectly sane, and they were all afraid. 36 Then those who had seen what happened told the others how the demon-possessed man had been healed. 37 And all the people in the region of the Gerasenes begged Jesus to go away and leave them alone, for a great wave of fear swept over them.
So Jesus returned to the boat and left, crossing back to the other side of the lake. 38 The man who had been freed from the demons begged to go with him. But Jesus sent him home, saying, 39 "No, go back to your family, and tell them everything God has done for you." So he went all through the town proclaiming the great things Jesus had done for him.
Living under a false view of yourself can be very deceptive. This man was so deceived he didn't realize he was naked, homeless or where he was living…when we have lived with a belief about ourselves for so long we can even deceive ourselves
In Revelation the church of Laodicea had been deceived so that it limited their effectiveness
Revelation 3:17
"Because you say, "I am rich, and have become wealthy, and have need of nothing," and you do not know that you are wretched and miserable and poor and blind and naked,"
The Father's heartbeat is that we know who we are so we might know others and set them free…that is where we are going today
Verse 28 How many times do we freak out or even argue with God when He wants to do something in our lives…sometimes He even has to drag us kicking and screaming to do something that is going to bless us and others…
He asks you to serve in some capacity and you fight it but once you do it you are glad you did
You call someone because you feel the urgency and you end up knowing what a powerful time you had
You don't feel like going to church, you are tired, busy, but you make the time and the Lord touches you every time
You give knowing it is inconvenient and that you could use the money somewhere else then God pours out blessing after blessing
Verse 30 What name are you known by? What name do you call yourself? What name binds you in chains and keeps you from being all the Lord has called you to be? God changed people's names
Abram, meaning "high father" — to Abraham, meaning "father of a multitude of many nations"
Jacob, meaning "caught by the heel" — to Israel, meaning "God may prevail/he struggles with God/God preserves"
Jebediah, meaning "friend of God" — to Solomon, meaning "peaceful"
Sarai, meaning "argumentative" — to Sarah, meaning "princess"
Saul, meaning "prayed for" — to Paul, meaning "small/humble"
Simon, meaning "he has heard" — to Peter, meaning "the rock"
Joseph, meaning "He will add" — to Barnabas, meaning "son of encouragement"
Why do you think God changed their names?
– we often get a false understanding of who we are from our environment, successes/failures, and psychologist say much of t comes from our Mothers.
– we get locked into believing things that are limiting and not true
– we don't fully understand the way the Lord sees us
What you believe about yourself, what you call yourself is who you are or who you become.
Proverbs 23:7 For as he thinks within himself, so he is. (NASB)
What are names that you call yourself?
– Not good enough
– Invisible
– dumb, stupid, idiot
– sinner
– failure
– ugly
– don't fit in
– victim
– miserable
What does God call us?
I am loved by God 1 Thessalonians 1:4
I am new 2 Corinthians 5:17
I am no longer a slave but free Galatians 4:7 (also and heir and child)
I am a friend of God John 15:15
I am a saint 1 Corinthians 1:2
I am the righteousness of God in Christ
I am chosen Ephesians 1:4, Colossians 3:12
I am blameless Ephesians 1:4
I am a citizen of heaven Philippians 3:20
I am sealed by God's love Ephesians 1:13, Song of Songs 8:6
There is so much more, overcomer, more than a conquer, child of God, Joint heir with Jesus
The Father's heartbeat is for us to know ourselves through His eyes but for many of us our truth is not His truth. We see ourselves through the eyes of our frame of reference our life experience.
The Lord promises us a new name
Revelation 2:17b
"And I will give to each one a white stone, and on the stone will be engraved a new name that no one understands except the one who receives it."
When we come to Christ even though we might not feel new, everything in God's eyes is wiped away and everything for us is made brand new…the old names you called yourself no longer exist. You are new in Christ.
Verse 32 Jesus already plans for us to be free but many times we need to make the choice to not allow the name to determine really who we are
Jesus already planned to set the man free, that is why he went there.  Jesus went out of his way to come to the man then he went right back after he did….he is determined to set us free from the names we believe, the things we believe about ourselves…The Father's heart chases after us wanting to set us free, the question is are we willing to be free or have we become so accustomed to the titles we have that we own them and even though he is chasing us…we will not be free. Some in here for whatever reason have chosen that in the past and are choosing it even today.
You will ignore these words, this teaching and choose to be miserable and blame everyone and everything else for your chains, bondage, lack of freedom and this morning Jesus is chasing you down
Verse 34-36 I don't think we realize what kind of impact we will have when we realize who we are, who God calls us to be
It is selfish for us to live under that titles we give ourselves that are not from God….He has called us to freedom so that we will walk in that freedom and so others can see the miracle of our lives, believe it, be amazed at God's goodness and desire the freedom we have.
Freedom is why Jesus came and freedom is what you will have if you choose to allow Him to bring it to you
Galatians 5:1
It was for freedom that Christ set us free; therefore keep standing firm and do not be subject again to a yoke of slavery.
Verse 38,39 when we have the Father's heartbeat it is convenient to want to cloister ourselves away from the world and just want to hang out with Jesus but if we truly have the Father's heart beat we know what he desires and that's everyone know what the Father calls them, their value
I need to ask you this…do you want to live under the bondage, the misery, the bad attitudes, the victim mentality that you have? Do you want to continue to believe because of your own pride that you are somehow less than others, yes pride does that. It is one of the names we live under.
Jesus came so we might live and walk in His truth rather than the lies we believe
"For the Law was given through Moses; grace and truth were realized through Jesus Christ." John 1:17
do you realize the names, titles tha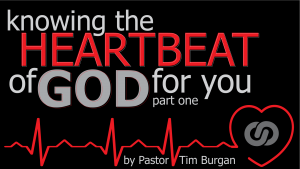 lies that you live under? Are you ready to walk in the truth of who he says you are so you might, realize His heartbeat for you and bring others to freedom?