Oct
15
Tue
Acts of Love: Support Group for Moms

@ Christian Center Church
Oct 15 @ 11:30 am – 1:30 pm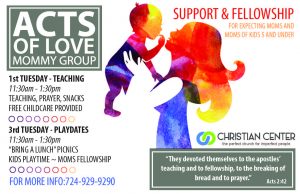 Come and fellowship with other moms at the Christian Center on the 1st and 3rd Tuesdays of each month.
The first Tuesday of the month gives you an opportunity to receive biblical teaching as your children are taken care of with free childcare.   The teaching takes place in the Impact Room/Nursery.
The third Tuesday provides a group playtime for all the kids and a fellowship time for the moms!  Everyone meets in the Fellowship Hall.
There is no registration fee.  Contact the church at 724-929-9290 for more information!
Celebrate Recovery

@ Christian Center Church - Classroom Building
Oct 15 @ 7:00 pm – 9:00 pm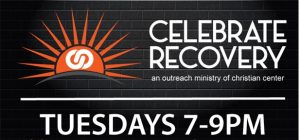 Celebrate Recovery
Who is it for?
Are you struggling with addiction? Do you need some help in your life to overcome smaller things? Maybe you've gone through traumatic experiences in your life and you don't know how to handle them. Maybe you've been abused either physically, sexually, or emotionally and you have this void inside you that you need help identifying and working to heal. If any of these ring a bell for you, then Celebrate Recovery can help. It is so much more than just helping to get past drugs or alcohol.
What is Celebrate Recovery?
Our focus is on the "Hurt, Habit, and Hangups" that trip up so many people. It can range from things like nail-biting, spending too much time on social media, overspending, or negative attitudes to more life-altering habits like rage, anger, sexual addiction, drugs, or alcohol.
We use a 12 step program that is based on the 8 principles found in the Beatitudes to come alongside you and help you to heal.
Is it Safe? Who will know about it?
Our trained leaders offer a confidential, safe environment for anyone who is attending.
When does it meet?
Celebrate Recovery meets every Tuesday from 7 PM to 9 PM in the Classroom Building adjacent to the church. You don't need an appointment – just show up and let the healing begin.
Traditional Archery

@ Christian Center Church
Oct 15 @ 7:00 pm – 8:00 pm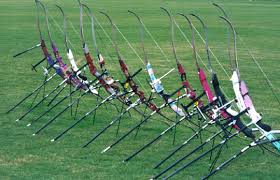 Our traditional archery group for both men and women meets on Tuesday nights in our fellowship hall. Don't have a bow or not sure how to shoot? Someone will be glad to lend a bow and teach you the basics. Kids under 16 years old are welcome but must be accompanied by an adult.
See you Tuesday nights.
Oct
16
Wed
Wednesday Morning Prayer Ministry

@ Classroom Building @ Christian Center Church
Oct 16 @ 9:00 am – 12:00 pm
Women's Bible Study w/Sheran Summers

@ Classroom Building
Oct 16 @ 10:00 am – 11:30 am