Shattering Misconceptions … Training to Impact Our World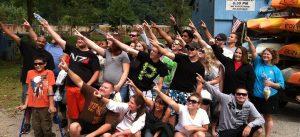 Impact Group is for young adults ages 18-30 years. We meet every Wednesday from 7:00-8:30pm in the Impact Room.  We typically have time to socialize to get to know each other better before we start into our weekly teaching.  Teachings may be done with video series, testimonies, or lessons God has laid on our hearts.  We will have a time to pray for needs and concerns.
We have singles, married couples, people who grew up in the church, and some who have just started attending church for the first time. We also have some that attend other churches on Sundays but come to Impact on Wednesdays. There are friendships that have grown from this class, and many now get together outside of Wednesday night, which is encouraging to us.
We work with outreaches with the church and in the community. We want to show our love for Jesus and others by giving of our time and talent.
Each summer we go camping together for a weekend.  We celebrate holidays, have picnics, and enjoy being a part of each other's lives.
If you're in the Impact Group's age range, we'd love to have you join us. You will see we certainly are not perfect people, but we love Jesus and each other and we're all working to become who He is calling us to be.
Beth Hough    Beth@christiancenter.us
Mike Hough   Mike@christiancenter.us
By phone at (724) 929-9290