Nov
9
Fri
Angel Tree Shoebox Collection

@ Christian Center Church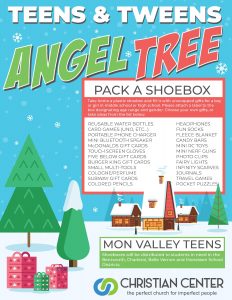 Join us to bring love and hope to local middle and high school students this Christmas.  Beginning November 16th, pick up a shoebox in our foyer and fill it with the items on the list inside the box.
Boxes will be labeled 'boy – middle school', 'boy – high school', 'girl – middle school', or 'girl – high school' and the list inside will correspond to the age group picked.
Please leave the label on the box when you return it.  The deadline to return your box(es) to the church is December 9th.
Filled boxes will be distributed to Belle Vernon, Bentworth, Charleroi and Monessen School Districts.  If you cannot fill a box. but still want to participate, you can take cards off the tree in the church foyer and purchase gift cards at our Go Team table.   The gift card will be added to the boxes and give a child a chance to go shopping or out to eat with friends.
Please make a difference in a local child's life this year!
Nov
18
Sun
Rostraver Twp. Light Up Night

@ John DeVirgilio Sports Complex
Nov 18 @ 6:00 pm – 8:00 pm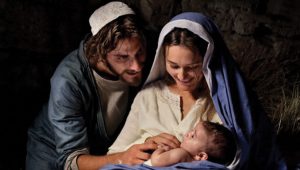 Join us as we present a live nativity scene at the Rostraver Township Light Up night at the John DeVirgilio Sports Complex (located behind the Rostraver Municipal Building).
Santa arrives by fire truck at 6 p.m. to begin the event and there will be food, crafts, games, and a bonfire.
The light up night is sponsored by the Rostraver Chamber of Commerce and the Township of Rostraver.
Nov
24
Sat
Charleroi Light Up Night

@ McKean and Fifth
Nov 24 @ 5:00 pm – 7:30 pm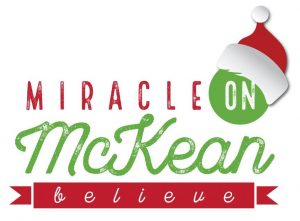 Join us as we present a live nativity scene and a Christmas carol sing-along at the Charleroi Light Up Night on Saturday, November 24th.
Titled "Miracle on McKean", this event coincides with Small Business Saturday and you are encouraged to support your local businesses as well as join in the celebration.   There will be a parade, opportunities to shop, face painting, crafts, a gift basket and a winter coat giveaway, and much more!
We will also light up the night with a candle lighting ceremony as we sing "Silent Night".   Come and share your love of Jesus with others!