Jul
21
Sun
VBS 2019 – Passport to Adventure

@ Christian Center Church
Jul 21 @ 6:00 pm – Jul 26 @ 9:00 pm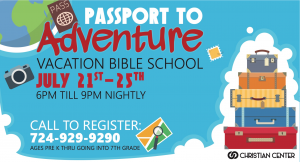 Join us this year as we go on a Passport Adventure!
Our VBS will be nightly from 6 p.m. – 9 p.m. starting Sunday, July 21st through Thursday, July 25th.  The closing program will be on Friday, July 26th at 6 p.m.
We will be going on a journey of Faith, Courage, Wisdom, Love and Endurance.  As we meet Expedition Ed (Clark's twin brother) in the Middle East, we'll take a walk with our biblical friends … Abraham, Joshua, Solomon, Jesus and Peter.  Explore the land they lived in and see what their life was like through Bible lessons, Bible memory verses, songs, skits, games, crafts and much much more!
Every night will begin with dinner … chicken nuggets, grilled cheese and tater tots, pizza and fruit, fish sticks and mac-n-cheese, pancakes and sausage.
Our nightly themes will be:
Sunday – Passport photos taken
Monday – Adventurous crazy hair day
Tuesday – Mix match expedition
Wednesday – Wet and Wacky
Thursday – PJ day
Friday – Closing program
Parents, we did not forget you!  Our café will be open each night to bless you with our specialty drinks when you drop off your children or pick them up.
Don't miss all of the fun as we take a journey through the Bible!  See you there!
You can register using the online form below or stop by the church and pick up a paper form.  If you would like further information, please call the church office at 724-929-9290.
Aug
5
Mon
Reading Camp 2019

@ Christian Center Church
Aug 5 @ 9:00 am – Aug 16 @ 12:30 pm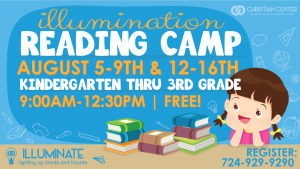 Join us for a FREE two-week camp where your child will learn to LOVE reading!
This educational camp is for kids in kindergarten through 3rd grade.  It will run from 9 a.m. – 12:30 p.m. for two consecutive weeks starting August 5th – 9th and August 12th – 16th.  Twenty-five hours of reading instruction will be provided.  Please prepare a packed lunch for your child daily.
Register using the online form below or by calling the church office at 724-929-9290.
Oct
11
Fri
Women's Retreat 2019

@ Laurelville Retreat Center
Oct 11 @ 4:00 pm – Oct 12 @ 9:00 pm

Join the women of the Christian Center Church to be renewed in the presence of God through prayer, worship, fellowship and teachings.   This year's event will be held at the scenic Laurelville Retreat Center in Mount Pleasant, PA.
This is a great opportunity to reconnect with others, meet someone new, have fun, and make great memories together.   Please invite any special women in your life, ages 18 and up.
Registration begins 4 p.m. on Friday; the first session begins at 6 p.m. Friday and there will be multiple sessions on Saturday along with free time.   Available activities include mini golf, ping pong, basketball, volleyball, tennis, hiking, campfire and more.  Remember to bring your Bible, pen, paper, snacks, weather-appropriate clothing for outdoor activities, and desired bath necessities.
Cost (includes overnight lodging & 3 meals on Saturday):
Payment is due in full by 9/15/19; make checks payable to Christian Center Church
1 per room:  $180
2 per room:  $140
3 per room:  $120
4 per room:  $110
Saturday only:  $40  (includes lunch and dinner)
Accomodation details (please specify your floor choice in your reservation):
1st floor rooms have 2 single bunks & 1 double bed
2nd floor rooms have 2 single beds (in a loft area) & 1 double bed