Welcome to the Men's Bible Study Group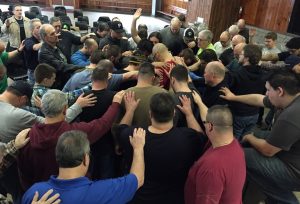 The Men's group meets every Wednesday night as part of Family Night. We meet from 7:00 P.M.-8:30 P.M. in the Lighthouse Center. Our Bible Study is designed so that all of the men that attend can build a stronger relationship with our Lord and Savior by growing in our faith through challenges and successes. The Men's Bible Study challenges each other to grow in our faith by encouragement, support, and prayer. We do this during our time together by praising God through worship, prayer time, a scripture-based lesson or a bible based video lesson and fellowship.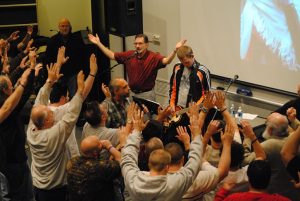 We share in fellowship with each other by praying for each other, praying for the needs of the church, the community and the world around us along with sharing our joys and sorrows along with a time of fellowship.
In addition to our Wednesday night time together we grow in our faith and fellowship with each other by attending our yearly retreat, serving Easter breakfast, yearly Men's Camp out during the summer or fall, Monthly, Saturday morning breakfast and many other activities.
Come and join us any Wednesday night, we look forward to meeting you, spending time with you and growing our faith of the Lord together.
Reed Anders
reed@christiancenter.us
(724) 929-9290