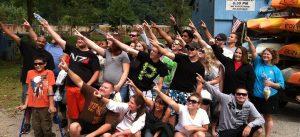 "Shattering Misconceptions and Training to Impact Our World"
Impact Group is for young adults ages 18-30 years. We meet every Wednesday at 7:00 p.m. in the "Back Room". To find us, you have to follow the sidewalk on either side of the church all the way to the back of the church and enter the door. We start off with some contemporary worship. The teaching style varies. We've recently studied with a John Bevere series entitled "Extraordinary" and also a couple series with Francis Chan. We may have someone share their testimony or just follow what we believe God would like us to share that evening.
We have singles, married couples, people who grew up in the church, and some who have just started attending church for the first time. We also have some that attend other churches on Sundays but come to Impact on Wednesdays. There are friendships that have grown from this class, and many now get together outside of Wednesday night, which is encouraging to us.
We plan to do at least one "outside" event a quarter.
Some of the events we look forward to:
Bowling Night
Picnics
Bonfires
Christmas Party
We also plan to get together to work on service projects in our community. We want to show our love for Jesus and others by giving of our time and talent.
After the worship, teaching, prayer and testimonies, we have a time for everyone to relax and get to know each other. We have a ping pong table and foosball table that each get used competitively each week. It's nice to have a place that they can enjoy each other's company. How good and pleasant it is when God's people live together in
unity." Psalm 133:1
If you're in the Impact Group's age range, we'd love to have you join
us. You will see we certainly are not perfect people, but we love
Jesus and each other and we're all working to become who He is calling
us to be.